Local Food, Other Stores and Farmer's Markets
I really like talking to the Exumians as I go from store to store. People are incredibly friendly and helpful. And sometimes you have to talk to a lot of people when you need bread or milk. Often only one place has any left before the next boat brings in more and you have to stop at all two or three if you really need something.
We usually go to George Town a couple of times a week: the first morning to stock up; and then again because we're passing through to go to Stocking Island or because we're exploring historical spots and beaches and seaside foods places south of Georgetown.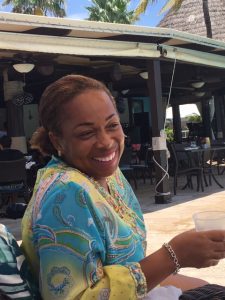 Ericka Munroe's Key Lime Pies
Capt. Jerry introduced us to Ericka's wonderful key lime pies. Making pies is her hobby. Her job is to run the front desk at the Emerald Bay Marina and she lives in the adjacent town of Rocker's Point. Price $25 Phone 242-524-8662  erickamunroe@yahoo.com While she keeps her hobby separate from her job, you can also just drop by the Marina in the golf cart to ask Ericka privately to make you a pie.
Bowe's Convenience Food Store (242-358-0138) is 4.4km south of Grand Isle but has a limited selection. Open: 8am to 10pm except Sunday 8am to 2pm
Frankie's Bakery beside Christine's Gas Station in Farmer's Hill Tel: 242-358-5733. Kadijira is renowned for her coconut bread which is available if you call a day ahead. The whole wheat bread is good, but we find island bread is different from our favourite artisan crusty bread at home, but what the heck, there are no beaches at home.
Prime Island Meats & Deli is just a few miles south of the airport in Hooper's Bay. Prime Island Meats has the convenience of rotisserie chickens, six kinds of takeout salads, pre-made frozen crab cakes, bags of frozen green vegetables and a large grocery selection. Mon. 10am-3pm, Tues- Fri. 10am-6 pm, Sat 10am-3pm (Closed Sun.) (242) 336-3627
Smitty's Drug Store just before George Town has a good selection and good prices along with the deli.
Shop Rite Mart (242-336-2670) in George Town on the west side of the lake is where the locals shop. You can also get a bag of fresh cleaned grouper from their fisherman a couple of days a week
Exuma Markets (242-336-2033) in George Town on the west side of the lake is where the yachters and other non-residents shop. It's twice the size of Shop Rite Mart with a very diverse selection. Open: Monday to Wednesday from 8am to 6pm, Thursday to Saturday from 8am to 7pm, Sundays from 8am to 11am
Fresh Fish. Tranees Beauty Salon on the right across from the Shell Gas in George Town. Renee Styles' husband is a fisherman and she sells the fish. It's frozen but fresh and amazingly good Grouper and red snapper. You can call 242-336-2620 to ask what she has on hand.
Local vegetable and fruit stands. Nearly every day, Mr. Paul has a vegetable and fruit stand between RBC and Exuma Markets. The local small bananas are very good. Don't believe the guy when he tells you the bonnet peppers aren't hot. We like hot but had to give these ones away.
Reverend Leon Williams has a vegetable stand at his farm in Stuart Manor on the way to Barraterre just after you turn off the Queen's Highway north of Steventon. His house is on the right when you come to a left turn in Stuart Manor, or you can just ask for directions to Reverend Williams' house from anyone you see or in the variety store in Stuart Manor. He's happy to sell you bananas anytime, or whatever else is in season. In January and February he also has cabbages, broccoli, tomatoes, mangoes, limes and more. It's a good idea to call 524-5320 before you go so he can have some things ready.
Nora's Vegetable Stand is 4km south of RBC and just north of Sure to Shore Car Rental. Nora and her husband came to Exuma after retiring from work in Nassau. She has the self-proclaimed best home grown produce on the island. She carries in season everything from okra, to peanuts to yams to pomegranates, as well as bags of sea salt she harvests herself on Little Exuma. You can call 336-3602 (h) or 565-7093 (c) to see if she's open.
Marco Newton's Garden Creations
If you need any fresh cilantro, or basil, parsley or some other herbs, Marco Newton will sell you some sprigs or a 4", 6" or 8" pot. He's located at Hooper's Bay just past the Builder's Supply on the way into George Town. Call 242-336-2380 or email GardenCreations@hotmail.com and he'll set some aside for you.
Fergie's Kitchen Products
Melda and her husband Wilfred Ferguson use local fruit and Bahamian salt to make a pepper sauce, seafood seasoning and mango, guava, cherry and sea grape jams under their own Fergie's Kitchen label which she sells every Saturday from a stand at the Fish Fry in Georgetown. Melda is a nurse at the Clinic in her day job. Marinate your fish with white wine, olive oil, lime juice and ½ teaspoon of Fergie's Kitchen Seafood Seasoning.
Yvonne Mckenzie's Basketry
My wife has a tote bag, a purse, bowls and Bahamas grocery bags from Yvonne who harvests fronds from Silver Top Palms, dries them and sells her work out of her home. The dried leaves are heavily used in straw work for making hats, baskets, mats and many other items. The leaves are also used in roofing. You can find Yvonne working in the public school in Rolleville or call her cell (242) 524-3056.