Our Favourite Restaurants
One of Exuma's delights is exploring the Island, getting immersed in the happy hospitality of local Exumians, and eating off the land in beach restaurants.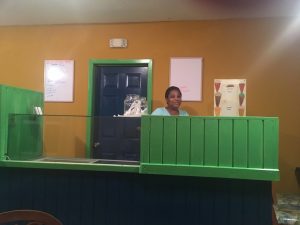 The Lighthouse Cafe and Ice Cream Parlour (242) 358-0400 On the beach just past Big D's in Steventon. Hands down, no question about it, this is the best place to eat in Exuma! It doesn't play to the tourists. They're true to their roots, with traditional Okra or Peas and Ham stews, and whole grilled snapper and BBQ or baked chicken.
On days when their customers who are fishermen can dive, they serve fresh lobster. You get a fresh lobster or snapper for $18, tax included. Or BBQ or baked chicken for $12, or $6 for a half portion. End your meal with the rum cake.
And you will not meet nicer people than Tonya who serves you or her husband Marco who cooks. Or Tonya's sister Jasmine or brother John who sometimes help. Maybe that's why all their local customers you'll meet are so nice too. While no alcohol is served, you are welcome to bring your own wine or beer and corkscrews and glasses will be provided. Closed Tuesday
Ocean Cabin Farmers Cay, Great Exuma (242) 355-4006 www.oceancbn.com
We took our nephew and his wife visiting from Australia and my daughter and son-in-law and two grandchildren on a boat trip with Capt. Jerry up the cays from Grand Isle to Farmer's Cay and not much was open for lunch but a guy yelled from Ty's Grill that Ocean Cabin was.
And what a stroke of luck! Some fishermen were cleaning freshly caught grouper, snapper and lobster on the dock while turtles, small sharks and sting rays were feeding off the trimmings to the delight of our grandchildren.
We all had lobster for lunch and it must have been the ones we just saw because I've never had fresher or better cooked fish in Exuma.
We ended this wonderful meal with our superlative hosts Terry and Ernestine Bain leading us in a rousing three nation rendition of the Farmer's Cay national anthem!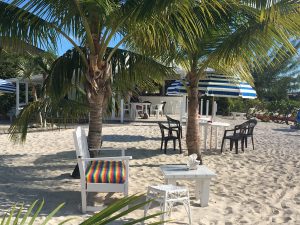 Peace and Plenty Beach Club on Stocking Island
Peace and Plenty has a new beach bar and grill on Stocking Island down the beach from Chat n' Chill.
It has a beautiful immaculately clean beach with all new furniture and umbrellas. Great fresh grilled grouper fillet in a bun for $12. No added tax or gratuity and very good service. On our last visit we shared a table and a conversation about Exuma with four sailers who have been coming to Exuma for 20 years. Peace and Plenty run a water ferry every hour from their hotel in George Town for $15 return. Call (242) 336-2551 for more information.
Eddie's Edgewater Bar and Grill
Eddie's Edgewater is located in downtown George Town and serves Bahamian dishes for breakfast, lunch and dinner. We think it has the tastiest grouper fingers in town. We like to sit on the porch and be greeted by everyone coming in for lunch. Our tip: don't come before one for lunch when they start serving, and if you call ahead with your order you'll get served half an hour earlier. It's a popular hang-out for visitors and locals and is known for Rake 'n Scrape night every Monday, starting at 8:00 p.m., with dinner and dancing. Call (242) 336-2050
Catch a Fire is temporarily closed. It's still the best place to see a spectacular sunset, but you have to bring your own wine for now. Watch for it to reopen in March 2019. The turn to Catch a Fire in Hermitage (357-0777) is 5km south of the Airport or 9 km north of George Town. We hope they will still have the same singer and his band Tropical Breeze who is exceptionally good. And the atmosphere is fun. Go at 5 p.m. for a drink and an amazing sunset.
Shoreline Restaurant and Bar in Rolleville at the north tip of Great Exuma. Call ahead. www.shorelinebeachclubexuma.com 242-345-6201. Wi-Fi available
In our opinion Violet Higgs has one of the best smiles on Exuma. The owners, Violet and Kevin are gracious, kind and hardworking. The setting is as beautiful as Violet's smile. Kevin and Violet are amazing hosts, really making this place a must go in Exuma.
The Original Three Sisters Restaurant in Mt. Thompson 242-358-7011. Our favourites are the baked chicken and red snapper. One day the fish choice was grouper fingers. There are four meal choices for $10 each, and your choice of three sides, one of which should always be peas and rice. This is real comfort food.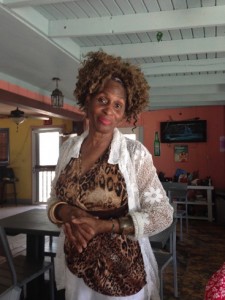 Shirley's Seafood Restaurant at the Fish Fry on the Queen's Highway just north of George Town is another of our must goes. 242-554-3642 (c) 242-336-3737 Wi-Fi available
We'd heard for some time about the very casual fish fry beach bar/restaurants just outside of George Town as the place where local Bahamians go on Friday night for the music and BBQs, but had always just assumed there would just be deep-fried food. Then we tried Shirley's. The food's the reason it is always near the top on Trip Advisor.
The crab cakes are fresh and lightly cooked with no batter, and just the right amount of distinctive seasoning. My fish is always similarly perfectly cooked fresh grouper in a pita-like bread wrap that is thinner and fresher than I'm able to find at home. It seems from the comments that the coconut or garlic flavoured grouper are also customer favourites.
When I asked Shirley what being #4 on Trip Advisor meant, she explained that when she'd started her business two years ago, she'd never heard of Trip Advisor until she discovered her customers were writing about her food. She told us when her fellow fish fry vendors complain about not having customers for three days, she tells them all she does is be there when she should be, and try to serve the best food.
Tropic Breeze Beach Bar & Grill Williams Town on Little Exuma, 242-345-4100 is another favourite. This beachside restaurant is run by Khriston Turnquest, a graduate of the Cordon Bleu school and ex Sandals chef. The food is delicious and the view is spectacular. Since it opened in February 2014, it has quickly developed a great reputation for quality and value. You can have an unbelievable view out over turquoise waters, plus really good food! We go for the perfectly cooked lobster which we've had in a Panini, Tacos and Poppers. Call ahead to make sure they're open because it can be unpredictably closed for a family funeral or whatever.
Santana's Grill Pitt in William's Town (242) 345 4102 on Little Exuma is a Bahamian treasure, an ocean side shack attended by proprietress Denise "Dee" Rolle Styles. Her signature dish of grilled Bahamian lobster with fried onions and "rice and beans" makes the trip well worthwhile. Dee's husband catches most of what you eat and it is fresh.
Next door is the very popular Mom's Bakery, run by Dee's mother.
Make sure you explore the beaches between Rolle Town and William's Town.
Santana's and Tropic Breeze are down the road from Tropic of Cancer beach, so named for its latitudinal position. It's one of the most beautiful of Exuma's beaches.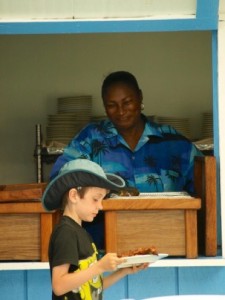 Exuma Point Bar and Grille in Rolleville at the north tip of Great Exuma 242-345-6244 or 242-554-2594 was rightly highly recommended to us by a few people and it's where we'll sometimes go directly from the airport for the buffet when we arrive. Maryann and Elvis Rolle are delightful hosts who offer excellent weekend buffet lunches on a perfect beach. And the cave where rebelling slaves hid is a three minute walk up the beach. Maryann and Elvis offer a $50/person buffet lunch and boat tour to see the swimming pigs. Call ahead to reserve.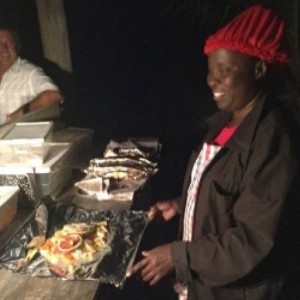 John David Smith's pop up Bahamian Grill at the Three Sisters has really good food on Friday and Saturday nights! You can expect some of the best Bahamian food of your visit. You can pick up packets of food to eat in your villa with chilled white wine or Bahamian beer. David Smith fishes the day before so what he BBQ's is the catch of the day. You can call David Smith's wife Idena, shown here with filleted red snapper, at 524-0214 (c) or 358-7162 (h) to order fresh fish or place your order for BBQ.
Big D's Conch Stop is a postcard-perfect spot on the beach in Steventon. A great place to go for lunch for the Tropical Conch Salad with mango and hot peppers alone. (242) 358-0059 Closed Monday
Haulover Bay Bar & Grill and Craft Store is tucked away in Rolle Town, 11km south of George Town.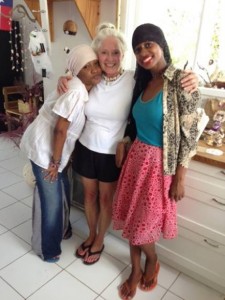 We love discovering new places on Exuma!  We wanted to walk in the water at low tide to the sand bar near Moriah Harbour Cay National Park across from Rolle Town. When looking for the crossing we discovered a wonderful restaurant and craft shop run by Karen and Stephan Hall and their four children Deborah, Ishmael, KenYah, and Joshua. You can choose dishes from an array of traditional Bahamian dishes (including fresh fish) by requesting the menu from HauloverBay@gmail.com, then placing your order when you make a reservation.
Open by appointment every day. Call 242-524-2108 to place your order and make a reservation.