Children-Friendly Tips
For swimming with the pigs, see the Guide Entry "Official home of the Swimming Pigs".
For fishing see Local Fisherman Rudy McKenzie and Stevie Ferguson Bone Fishing Guide in the Guide Entry "What To Do In Exuma".
–
Chat 'N' Chill, Stocking Island You can take a short water taxi across Elizabeth Harbour from the George Town municipal wharf to Stocking Island. Children love the sting rays and you might even see a family of dolphins. There are fresh conch salads and the guy making them will give you pieces of conch to hand feed the sting rays beside the Stand. The Conch burgers are also good.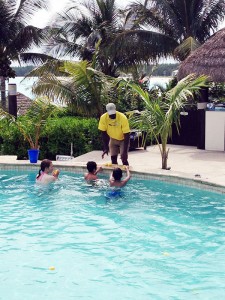 Grand Isle Resort is a very child friendly place to stay, from the Hummingbird Hut staff at the pool who organize and play games with the kids to providing a range of toys to build sand castles a few steps away on Grand Isle's Emerald Bay Beach.